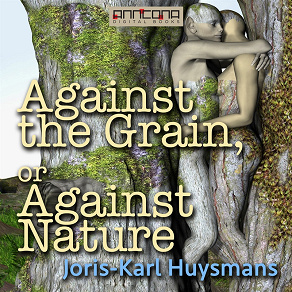 Isbn:
978-91-7759-445-1
Publisher:
Anncona Media
Category:
Novels
In english
Accessible since:
February 2018
Narrator:
Martin Geeson
Length: 9 hours 5 minutes
---
Against the Grain or Against Nature
Against The Grain, or Against Nature is a novel by the French writer Joris-Karl Huysmans.
"THE BOOK THAT DORIAN GRAY LOVED AND THAT INSPIRED OSCAR WILDE". Such is the enticing epigraph of one early translation of Huysmans' cult novel of 1884, which is also routinely called the Bible of Decadence. Accurate descriptions, both, of this bizarre masterpiece which has reverberated ever since through high and popular culture.
Its narrative concentrates almost entirely on its principal character and is mostly a catalogue of the tastes and inner life of Jean des Esseintes, an eccentric, reclusive aesthete and antihero who loathes 19th-century bourgeois society and tries to retreat into an ideal artistic world of his own creation. À rebours contains many themes that became associated with the Symbolist aesthetic. In doing so, it broke from Naturalism and became the ultimate example of "decadent" literature.
 "Against Nature" (or in this version "Against The Grain") explores to the furthest limit the life of the world-rejecting aesthete living a reclusive existence devoted entirely to artificial paradises of his own devising. This is no solemn tract, however: the book's anti-hero Duc Jean Floressas Des Esseintes spectacularly fails to achieve his life's work, as all his attempts to create worlds of perverse experience through synaesthesia and interior decoration prove ludicrously unsatisfying and injurious to health. An innocent tortoise also falls casualty to his theories, in the wonderful fifth chapter.
Against The Grain, or Against Nature was originally published in 1884 and this edition is translated by John Howard. However, this translation lacks a chapter, and two brief incidents are also suppressed on account of their sexual perversity. Enjoy what remains. 
Audiobook read by Martin Geeson, running Time 9 hours, 5 min. Unabridged full version. Also available as E-Book: ePUB, 60,000 words, average reading time 5 hours.
Charles-Marie-Georges Huysmans (1848-1907) was a French novelist and art critic who published his works as Joris-Karl Huysmans. He is most famous for the novel À rebours (1884, published in English as Against the Grain or Against Nature.)
Listen to sample
---