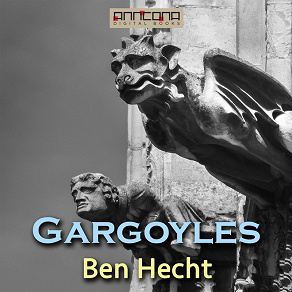 Isbn:
978-91-7759-454-3
Publisher:
Anncona Media
Category:
Novels
In english
Accessible since:
February 2018
Narrator:
Roger Melin
Length: 11 hours 54 minutes
---
Gargoyles
Gargoyles is a novel by Academy Award winner, American screenwriter Ben Hecht.
The author, Ben Hecht, was a prolific writer as well as a renowned screenwriter, producer, and director of films. His screenwriting skills include some of the most popular films of Hollywood's golden era, including "Gone With the Wind", "Wuthering Heights", "Spellbound", and "Scarface", to name but a few. 
Hecht had already established himself as a novelist and an author of short stories when Gargoyles was published.
Gargoyles delves deep into the psyches of individuals and of their relationships within social classes, revealing both the darker sides and the sentimental sides.
Sometimes the characteristics, values and ethics of his characters are altered over time, as they (sometimes unwittingly) look within themselves and acknowledge what they valued most, how their egos affect their decisions and ethics, yet not always understanding the reasons those values are so crucial to them.
What we learn is the results of these changes, as we center on the lives of George Basine, his friends, and his family, and most importantly, the masks that each wore.
Gargoyles was first published in 1922. Audiobook read by Roger Melin, running time 11 hours, 55 min. Unabridged full version. Also available as E-Book: ePUB, 91,700 words, average reading time 7 hours, 40 min. 
Ben Hecht (1894 - 1964) was an American screenwriter, director, producer, playwright, and novelist. Called "the Shakespeare of Hollywood", he received screen credits, alone or in collaboration, for the stories or screenplays of some seventy films and as a prolific storyteller, authored thirty-five books and created some of the most entertaining screenplays and plays in America.
Listen to sample
---