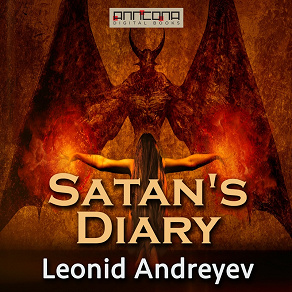 Isbn:
978-91-7759-463-5
Publisher:
Anncona Media
Category:
Novels
Fantasy & Sci-Fi
In english
Accessible since:
February 2018
Narrator:
Carolin Kaiser
Length: 8 hours 45 minutes
---
Satan's Diary
Satan's Diary is a novel by Russian author Leonid Nikolayevich Andreyev, an acclaimed Russian playwright and writer of short fiction, who was noted for the darkness in his work.
Satan's Diary, Andreyev's last work, was completed by the great Russian a few days before he died in Finland, in September, 1919. But a few years ago the most popular and successful of Russian writers, Andreyev died almost penniless, a sad, tragic figure, disillusioned, broken-hearted over the tragedy of Russia.
In Satan's Diary, Andreyev summoned up his boundless disillusionment in an absorbing satire on human life. Fearlessly and mercilessly he hurled the falsehoods and hypocrisies in the face of life.
He portrayed Satan coming to this earth to amuse himself and play. Having assumed the form of an American multi-millionaire, Satan set out on a tour through Europe in quest of amusement and adventure.
Before him passed various forms of spurious virtues, hypocrisies, the ruthless cruelty of man and the often deceptive innocence of woman. Within a short time, Satan finds himself outwitted, deceived, relieved of his millions, mocked, humiliated, beaten by man in his own devilish devices. 
Satan's Diarywas translated by Herman Bernstein. Audiobook read by Carolin Kaiser, running time 8 hours, 46 min. Unabridged full version. Also available as E-Book: ePUB, 60,400 words, average reading time 5 hours.
Leonid Nikolaievich Andreyev (1871-1919) was a Russian playwright, novelist and short-story writer. He is one of the most talented and prolific representatives of the Silver Age period in Russian history. Andreyev's style combines elements of realist, naturalist and symbolist schools in literature.
Listen to sample
---