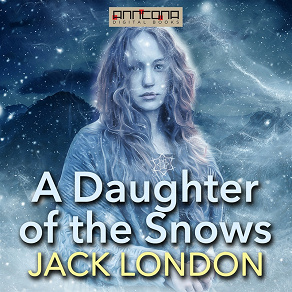 Isbn:
978-91-7759-467-3
Publisher:
Anncona Media
Category:
Novels
In english
Accessible since:
February 2018
Narrator:
Don W. Jenkins
Length: 8 hours 27 minutes
---
A Daughter of the Snows
A Daughter of the Snows is Jack London's first novel, published in 1902.
Set in the Yukon, it tells the story of Frona Welse, a strong and interesting heroine, "a Stanford graduate and physical Valkyrie" who heads to the Yukon gold fields after creating a stir in her hometown by being strong and forthright and by befriending the town's prostitute.
In the course of her adventures, she finds herself at the distaff point of a love triangle, being torn between love for two suitors: Gregory St Vincent, a local man who turns out to be cowardly and treacherous; and Vance Corliss, a Yale-trained mining engineer.
The novel is noteworthy for its strong and self-reliant heroine, one of many who would people his fiction.
This novel contains very overt racial and gender stereotypes and as such reflects the attitudes growing in society at the time it was written. Audiobook read by Don W. Jenkins, running time 8 hours, 27 min. Unabridged full version. Also available as E-Book: ePUB, 86,900 words, average reading time 7 hours, 15 min
Jack London (1876-1916) was an American author, journalist, and social activist. He was a pioneer in the then-burgeoning world of commercial magazine fiction and was one of the first fiction writers to obtain worldwide celebrity and a large fortune from his fiction alone. London's most famous novels are The Call of the Wild, White Fang, The Sea-Wolf, The Iron Heel, and Martin Eden.
Listen to sample
---