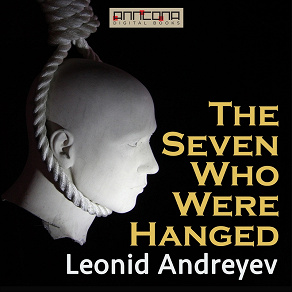 Isbn:
978-91-7759-465-9
Publisher:
Anncona Media
Category:
Novels
In english
Accessible since:
February 2018
Narrator:
Carolin Kaiser
Length: 3 hours 35 minutes
---
The Seven Who Were Hanged
The Seven Who Were Hanged is a novel by Russian author Leonid Nikolayevich Andreyev, an acclaimed Russian playwright and writer of short fiction, who was noted for the darkness in his work.
The Seven Who Were Hanged depicts the fates of five leftist revolutionaries foiled in their attack and two common peasants who have received death sentences. These condemned people are awaiting their executions by hanging. In prison, each of the prisoners deals with his fate in his or her own way.
"I am very glad that "The Story of the Seven Who Were Hanged" will be read in English. The misfortune of us all is that we know so little, even nothing, about one another—neither about the soul, nor the life, the sufferings, the habits, the inclinations, the aspirations of one another. Literature, which I have the honor to serve, is dear to me just because the noblest task it sets before itself is that of wiping out boundaries and distances." -- Leonid Andreyev, in a letter to Herman Bernstein
The Seven Who Were Hanged was translated by Herman Bernstein. Audiobook read by Carolin Kaiser, running time 3 hours, 35 min. Unabridged full version. Also available as E-Book: ePUB, 30,000 words, average reading time 2 hours, 30 min.
Leonid Nikolaievich Andreyev (1871-1919) was a Russian playwright, novelist and short-story writer. He is one of the most talented and prolific representatives of the Silver Age period in Russian history. Andreyev's style combines elements of realist, naturalist and symbolist schools in literature.
Listen to sample
---