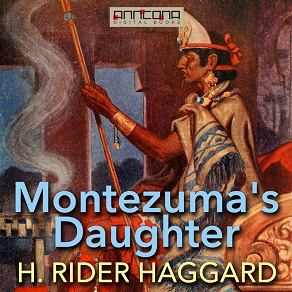 Isbn:
978-91-7759-471-0
Publisher:
Anncona Media
Category:
Novels
In english
Accessible since:
February 2018
Narrator:
Patrick Seventini
Length: 18 hours 18 minutes
---
Montezuma's Daughter
Montezuma's Daughter is an action & adventure novel by English author H. Rider Haggard. 
This time around Haggard takes us to exotic 16th century Anahuac - the Aztec name for Mexico. It has it all: a love story (or two), a quest for revenge, exotic people, riches and high seas adventure.
Montezuma's Daughter is a moving adventure story narrated by Thomas Wingfield, an Englishman whose adventures include having his mother murdered, a brush with the Spanish Inquisition, shipwreck, and slavery.
Eventually, Thomas unwillingly joins a Spanish expedition to New Spain, and the novel tells the fictionalized story of the first interactions between the natives and European explorers. This includes a number of misunderstandings, prejudice on the part of the Spaniards, and ultimately open war.
During the course of the story, Thomas meets and marries the daughter of the native king (from whom the novel takes its title) and settles into life in Mexico.
Montezuma's Daughter was first published in 1893. Audiobook read by Patrick Seventini, running time 18 hours, 19 min. Unabridged full version. Also available as E-Book: ePUB, 151,200 words, average reading time 12 hours, 35 min.
Sir Henry Rider Haggard (1856-1925) was an English writer of adventure novels set in exotic locations, predominantly Africa, and a founder of the Lost World literary genre. Haggard's stories are still widely read today. Haggard's Lost World genre influenced popular American pulp writers such as Edgar Rice Burroughs, Robert E. Howard, Talbot Mundy, Philip José Farmer, and Abraham Merritt.
Allan Quatermain, the adventure hero of King Solomon's Mines and its sequel Allan Quatermain, was a template for the American character Indiana Jones, featured in the films Raiders of the Lost Ark, Temple of Doom, Indiana Jones and the Last Crusade, and Kingdom of the Crystal Skull. Quatermain has gained recent popularity thanks to being a main character in the League of Extraordinary Gentlemen.
Listen to sample
---