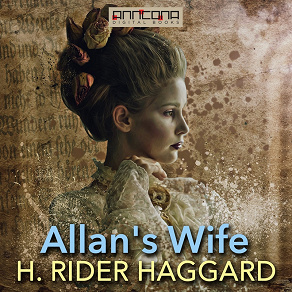 Isbn:
978-91-7759-479-6
Publisher:
Anncona Media
Category:
Novels
In english
Romance
Accessible since:
February 2018
Narrator:
Lainey Ben
Length: 4 hours 47 minutes
---
Allan's Wife
Allan's Wife is an adventure novel, part of the Allan Quatermain series, by E. Rider Haggard first published in 1889.
Allan's Wife is the story of Quartermain's early life, and his marriage to childhood sweetheart, Stella, mother of his son Harry.
Allan Quatermain is the protagonist of H. Rider Haggard's 1885 novel King Solomon's Mines and its sequels. Allan Quatermain was also the title of a book in this sequence.
The character Quatermain is an English-born professional big game hunter and occasional trader in southern Africa, who supports colonial efforts to 'spread civilization' in the 'dark continent', though he also favours native Africans having a say in their affairs. An outdoorsman who finds English cities and climate unbearable, he prefers to spend most of his life in Africa
Allan's Wife was the title story of Allan's Wife and Other Tales, a collection of Allan Quatermain stories first published in 1889. The other three stories were Hunter Quatermain's Story, A Tale of Three Lions and Long Odds.
Audiobook read by Lainey Ben, running time 4 hours, 47 min. Unabridged full version. Also available as E-Book: ePUB, 51,200 words, average reading time 4 hours, 15 min.
Sir Henry Rider Haggard (1856-1925) was an English writer of adventure novels set in exotic locations, predominantly Africa, and a founder of the Lost World literary genre. Haggard's stories are still widely read today. Haggard's Lost World genre influenced popular American pulp writers such as Edgar Rice Burroughs, Robert E. Howard, Talbot Mundy, Philip José Farmer, and Abraham Merritt. 
Allan Quatermain, the adventure hero of King Solomon's Mines and its sequel Allan Quatermain, was a template for the American character Indiana Jones, featured in the films Raiders of the Lost Ark, Temple of Doom, Indiana Jones and the Last Crusade, and Kingdom of the Crystal Skull. Quatermain has gained recent popularity thanks to being a main character in the League of Extraordinary Gentlemen.
Listen to sample
---