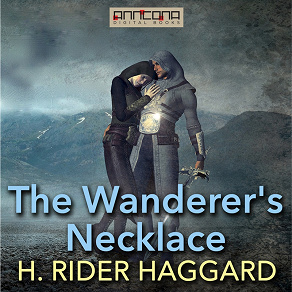 The Wanderer's Necklace
The Wanderer's Necklace is an adventure novel by H Rider Haggard.
Olaf, a Norseman in the eighth century A.D., flees his homeland after challenging the Norse god Odin's right to a human sacrifice, travels to Constantinople (Istanbul, Turkey) to protect the Empress Irene Augusta from her son Constantine the Fifth and other enemies of the Eastern Roman Empire.
From Byzantinum, to the pyramid tombs of Upper Egypt, Olaf becomes a traveling Christian who must reject the adulterous advances of Irene. Blinded as punishment for rejecting the Empress, Olaf's adventures are woven within the intrigues of the Eastern Roman Empire.
Olaf begins his recollections with a polar bear hunt, leading to his fame as a great hunter, to excavating his previous life's gravesite to recover the Necklace. The other half of the Necklace lies on a mummy reposing within a pharaoh's tomb in ancient Egypt. The adventure novel shows how these two separate events tie together past and present lives.
The Wanderer's Necklace was first published in 1914. Audiobook read by Annylee Hill, running time 10 hours, 28 min. Unabridged full version. Also available as E-Book: ePUB, 95,800 words, average reading time 8 hours.
Sir Henry Rider Haggard (1856-1925) was an English writer of adventure novels set in exotic locations, predominantly Africa, and a founder of the Lost World literary genre. Haggard's stories are still widely read today. Haggard's Lost World genre influenced popular American pulp writers such as Edgar Rice Burroughs, Robert E. Howard, Talbot Mundy, Philip José Farmer, and Abraham Merritt.
Allan Quatermain, the adventure hero of King Solomon's Mines and its sequel Allan Quatermain, was a template for the American character Indiana Jones, featured in the films Raiders of the Lost Ark, Temple of Doom, Indiana Jones and the Last Crusade, and Kingdom of the Crystal Skull. Quatermain has gained recent popularity thanks to being a main character in the League of Extraordinary Gentlemen.
Listen to sample
---