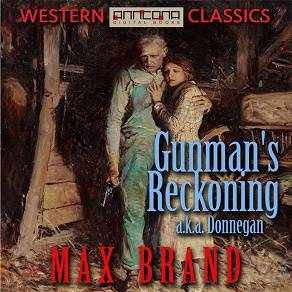 Gunman's Reckoning
Gunman's Reckoning is a classic western action novel by American authour Max Brand.

Gunman's Reckoning is a tale of a tough guy who gets involved with an evil man with an angel daughter for whom the tough guy falls.

It is the story of a drifter that is given a job of righting a wrong that was done andto recover hers and her father's gold mine claims In the midst of doing this, he realizes that what he was called on to do was not the entire truth. But, the drifter puts this aside because in taking this job, he has stumbled upon the answer to a quest that he has been on in quite a while.

"It was time then for action, and Lefty Joe prepared for the descent into the home of the enemy. Let it not be thought that he approached this moment with a fallen heart, and with a cringing, snaky feeling as a man might be expected to feel when he approached to murder a sleeping foeman. For that was not Lefty's emotion at all. Rather he was overcome by a tremendous happiness. He could have sung with joy at the thought that he was about to rid himself of this pest."

Gunman's Reckoning is a great example of the works of Max Brand. It has a bit of everything….love; lies, action and humor combine to make a very readable tale. It is a must read for all those enjoying the western genre.

Gunman's Reckoning was first published in 1921. Audiobook read by Richard Kilmer, running time 8 hours and 41 min. Also available as E-Book, ePUB, 80,600 words, average reading time 6 hours, 45 min. Unabridged full version.

Max Brand was the pen name for Frederick Schiller Faust (1892-1944) who was an American author known primarily for his thoughtful and literary Westerns.
Listen to sample
---