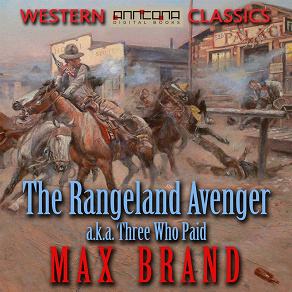 The Rangeland Avenger
The Rangeland Avenger is a classic western action novel by American authour Max Brand.

If you enjoy a fast-moving western dealing with vengeance and well-deserved payback, you'll like The Rangeland Avenger by Max Brand. A soft spoken but ruthless gunman cuts a path of deadly payback across the Wild West in this exciting adventure.

When Riley Sinclair heads into the town of Sour Creek to seek vengeance for the death of his brother, he doesn't expect any trouble given his reputation and his skills with a gun. However, he is not prepared for meeting Cold Feet, a man locally known for his abject lack of courage and his non-existent fighting skills.

"And maybe I ain't. Sinclair brushed the entire argument away into a thin mist of smoke. "Now, look here, Cold Feet, I'm about to go to sleep, and when I sleep, I sure sleep sound, taking it by and large. They's times when I don't more'n close one eye all night, and they's times when you'd have to pull my eyes open, one by one, to wake me up. Understand? I'm going to sleep the second way tonight. About eight hours of the soundest sleep you ever heard tell of."

Originally published in 1922 in Western Story Magazine under the title of Three Who Paid, written under the pseudonym of George Owen Baxter, and subsequently in book form under the title The Rangeland Avenger in 1924.

Audiobook read by Richard Kilmer, running time 7 hours and 12 min. Unabridged full version. Also available as a E-Book, ePUB, 77,600 words, average reading time 6 hours, 25 min.

Max Brand was the pen name for Frederick Schiller Faust (1892-1944) who was an American author known primarily for his thoughtful and literary Westerns.
Listen to sample
---