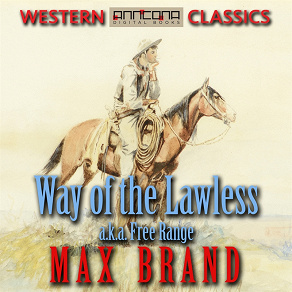 Way of the Lawless
Way of the Lawless (aka Free Range) is a classic western action novel by American writer Max Brand.

Andrew Lanning has been raised by his Uncle Jasper to know how to shoot just like the gunmen of the days when the West was a little younger and wilder. Unfortunately, Andrew is a bit too gentle and soft. But when he's confronted, he takes an adversary down with one punch. Thinking he's killed the man, he runs. But when he's being hunted by a posse, and realizes they aren't playing fair, he kills the leader, and thus begins his life as a desperado.

"He made one mistake in the beginning. He pushed the chestnut too hard the first and second days, so that on the third day he was forced to give the gelding his head and go at a jarring trot most of the day. On the fourth and fifth days, however, he had the reward for his caution. The chestnut's ribs were beginning to show painfully, but he kept doggedly at his work with no sign of faltering.

The sixth day brought Andrew Lanning in close view of the lower hills. And on the seventh day he put his fortune boldly to the touch and jogged into the first little town before him."

Way of the Lawless was first published under title Free Range. This unabridged edition was published in 1921. Audiobook read by Richard Kilmer. running time 7 hours and 36 min. Also available as E-Book: ePUB, 71,000 words, average reading time 5 hours, 55 min.

Max Brand was the pen name for Frederick Schiller Faust (1892-1944) who was an American author known primarily for his thoughtful and literary Westerns.
Listen to sample
---