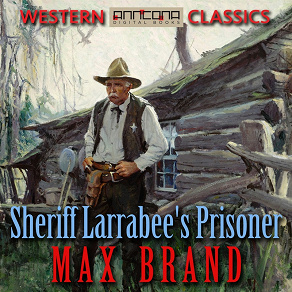 Sheriff Larrabee's Prisoner
Sheriff Larrabee's Prisoner is a classic western action novel by American writer Max Brand.

The stranger rode up in the pouring rain to the lonely ranch house. Before dawn he was riding quickly away.

Old Mr. Benton had been murdered on his lonely ranch and there was only one suspect: the stranger who rode up in the downpour and sped off again before dawn. But looks can be deceiving and there were plenty of others acting suspiciously including Mrs. Zellar and Jack Montagne.

Who had killed old Mr. Benton? The stranger, or Gus, or Mrs. Zellar? And why was Jack Montagne's behaviour so gentlemanly? This is an old-fashioned Western mystery.

Sheriff Larrabee's Prisoner first appeared 1921 in Western Story Magazine. Written under the pen name of Martin Dexter.

Audiobook read by David Wales. running time 2 hours and 8 min. Unabridged full version. Also available as E-Book: ePUB, 21,900 words, average reading time 1 hour, 50 min.

Max Brand was the pen name for Frederick Schiller Faust (1892-1944) who was an American author known primarily for his thoughtful and literary Westerns.
Listen to sample
---