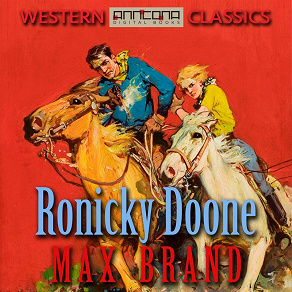 Ronicky Doone
Ronicky Doone is a classic western action novel by American writer Max Brand.

Ronicky Doone is a hero of the west, respected by the law-abiding citizen from Tombstone to Sonora -and hated by bushwhacking bandits.

Bill Gregg is a man in love, not about to be deflected from meeting his lady love for the first time, and willing to stand up to the living legend of Ronicky Doone to reach her. This initial meeting leads to a friendship between the two and they travel east to New York City on the trail of the girl.

When they find the girl, Caroline Smith, and she refuses to leave, Ronicky must discover the secret that holds her. They encounter the sinister John Mark and the beautiful Ruth Tolliver and are exposed to the horrors and vices of big city life as they attempt to rescue Caroline. . . 

Ronicky Doone was first published in 1921. Audiobook read by Rowdy Delaney, running time 5 hours and 43 min. Unabridged full version. Also available as E-Book: ePUB, 56,800 words, average reading time 4 hours, 45 min. 

Max Brand was the pen name for Frederick Schiller Faust (1892-1944) who was an American author known primarily for his thoughtful and literary Westerns.
Listen to sample
---