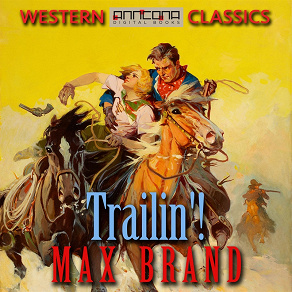 Trailin'!
Trailin'! is a classic western action novel by American author Max Brand.

Trailin'! tells the story of Anthony Bard, a young aristocrat from the east with a hunger for adventure, who sees his father murdered in the yard of their home. This starts young Anthony on a trail of vengeance that leads him to the far west.

In the west, Anthony, a tenderfoot with a knack for survival must track down a legendary outlaw who waits for him, not with a gun, but with a story. Along the way he braves the elements, resists a band of cold-blooded killers and finds love. A classic western revenge plot... with a twist.

Trailin'! was first published in 1919. Audiobook read by Rowdy Delaney, running time 7 hours, 28 min. Unabridged full version. Also available as E-Book: ePUB, 72,500 words, average reading time 6 hours.

Max Brand was the pen name for Frederick Schiller Faust (1892-1944) who was an American author known primarily for his thoughtful and literary Westerns.
Listen to sample
---