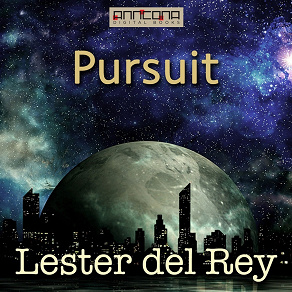 Isbn:
978-91-7759-551-9
Publisher:
Anncona Media
Category:
Novels
Fantasy & Sci-Fi
In english
Accessible since:
April 2019
Narrator:
Dale Grothman
Length: 1 hour 60 minutes
---
Pursuit
Pursuit is a science fiction novella by American author Lester del Ray, first published in 1952.

A man wakes with no memory of the last seven months. He only knows he's in danger. No sooner does he leave his apartment than it explodes in flames. He sets off running through New York.

A nicely done paranoid sci-fi story of heat rays, disintegrating men, exploding cats, and trips to the moon. Aliens must be involved--what other explanation can there be?

Pursuit was first published in Space Science Fiction May 1952. Audiobook read by Dale Grothman, running time 2 hours. Unabridged full version.Also available as E-Book: ePUB, 18,900 words, average reading time 1 hour, 35 min. 

Lester del Rey (1915 - 1993) was an American science fiction author and editor. He was the author of many books in the juvenile Winston Science Fiction series, and the editor at Del Rey Books, the fantasy and science fiction imprint of Ballantine Books. Del Rey was awarded the 1972 E. E. Smith Memorial Awardfor Imaginative Fiction (for the Skylark) by the New England Science Fiction Association and a special 1985 Balrog Awardfor his contributions to fantasy, voted by fans and organized by Locus Magazine. The Science Fiction Writers of Americanamed him its 11th SFWA Grand Masterin 1990.
Listen to sample
---