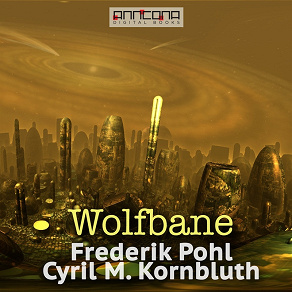 Isbn:
978-91-7759-559-5
Publisher:
Anncona Media
Category:
Novels
Fantasy & Sci-Fi
In english
Accessible since:
April 2019
Narrator:
Dale Grothman
Length: 3 hours 54 minutes
---
Wolfbane
Wolfbane is a science fiction novel by Frederik Pohl and C. M. Kornbluth.

Appallingly, the Earth and the Moon had beenkidnapped from the Solar System—but who werethe kidnappers and what ransom did they want?

This science fiction novel takes place in the year 2203. A rogue planet, populated by strange machines known as Pyramids, has stolen the Earth from the Solar system, taking it off into interstellar space. The moon has been 'ignited' by alien technology to serve as a miniature sun around which both planets orbit. This new sun is rekindled every 5 years, though as the book opens, the rekindling is nearly overdue and there is fear among the populace that it may never happen again.

In his review column for F&SF, Damon Knight selected the novel as one of the 10 best genre books of 1959.

Wolfbane was first published in Galaxy Magazine in October and November 1957. AUDIO: Reading by Dale Grothman, running time 3 hours and 54 min. Unabridged full version. Also available as e-book (ePUB), 35,200 words, average reading time 2 hours, 55 min.

Frederik George Pohl, Jr. (1919-2013) was an American science fiction writer and editor, with a career spanning more than seventy-five years. From about 1959 until 1969, Pohl edited Galaxy and its sister magazine If; the latter won three successive annual Hugo Awards as the year's best professional magazine. He won four Hugo and three Nebula Awards. The Science Fiction Writers of America named Pohl its 12th recipient of the Damon Knight Memorial Grand Master Award in 1993 and he was inducted by the Science Fiction and Fantasy Hall of Fame in 1998.

Cyril M. Kornbluth (1923–1958) was an American science fiction author and a notable member of the Futurians. He used a variety of pen-names, including Cecil Corwin, S. D. Gottesman, Edward J. Bellin, Kenneth Falconer, Walter C. Davies, Simon Eisner, Jordan Park, Arthur Cooke, Paul Dennis Lavond and Scott Mariner.
Listen to sample
---