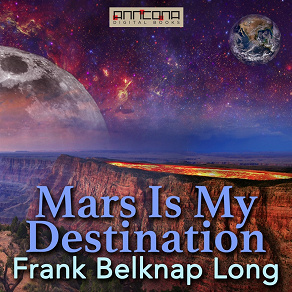 Isbn:
978-91-7759-561-8
Publisher:
Anncona Media
Category:
Novels
Fantasy & Sci-Fi
In english
Accessible since:
April 2019
Narrator:
Tom Penn
Length: 6 hours 33 minutes
---
Mars is My Destination
Mars is My Destination is a science fiction novel by Frank Belknap Long.

MARS... Earth's first colony in Space. Men killed for the coveted ticket that allowed them to go there. And, once there, the killing went on....

MARS... Ralph Graham's goal since boyhood—and he was Mars-bound with authority that put the whole planet in his pocket—if he could live long enough to assert it!

MARS... source of incalculable wealth for humanity—and deadly danger for those who tried to get it!

MARS... in Earth's night sky, a symbol of the god of war—in this tense novel of the future, a vivid setting for stirring action!

BUT MARS WAS IN DANGER. There was trouble brewing on Mars—bad trouble. Two giant industrial empires fought for control there, and their struggle imperiled the whole Mars colony. Civil war—atomic civil war second—could break out any second, leaving Earth's only foothold in space a mass of radioactive rubble.

One man was needed to take charge—one man who could act fast and decisively, brutally if he had to. Ralph Graham got the job. And then the people around him started to die...

Mars is My Destination was first published in 1962. Audio book read by Tom Penn, running time 6 hours and 33 min. Unabridged full version. Also available as E-Book: ePUB, 64,000 words, average reading time 5 hours, 20 min.

Frank Belknap Long (1901 - 1994) was a prolific American writer of horror fiction, fantasy, science fiction, poetry, gothic romance, comic books, and non-fiction. Though his writing career spanned seven decades, he is best known for his horror and science fiction short stories, including early contributions to the Cthulhu Mythos.
Listen to sample
---