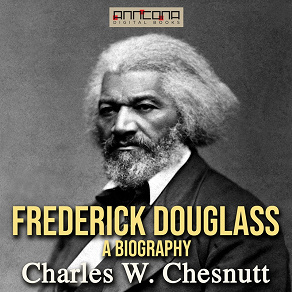 Frederick Douglass - A Biography
Frederick Douglass - A Biography by Charles Waddell Chesnutt. Born into slavery, Frederick Douglass became one of America's great icons. He escaped slavery to become one of our great abolitionists, statesman, writer, orator, all around social reformer and intellectual of our time.

After escaping from slavery in Maryland, Douglass became a national leader of the abolitionist movement in Massachusetts and New York, gaining note for his oratory and incisive antislavery writings. In his time, he was described by abolitionists as a living counter-example to slaveholders' arguments that slaves lacked the intellectual capacity to function as independent American citizens. Northerners at the time found it hard to believe that such a great orator had once been a slave.

Douglass became the first African American nominated for Vice President of the United States as the running mate and Vice Presidential nominee of Victoria Woodhull, on the Equal Rights Party ticket.

Douglass was a firm believer in the equality of all peoples, whether black, female, Native American, or recent immigrant. He was also a believer in dialogue and in making alliances across racial and ideological divides, and in the liberal values of the U.S. Constitution. When radical abolitionists, under the motto "No Union with Slaveholders", criticized Douglass' willingness to engage in dialogue with slave owners, he famously replied: "I would unite with anybody to do right and with nobody to do wrong."

Douglass wrote several autobiographies. He described his experiences as a slave in his 1845 autobiography, Narrative of the Life of Frederick Douglass, an American Slave, which became a bestseller, and was influential in promoting the cause of abolition. After the Civil War, Douglass remained an active campaigner against slavery and wrote his last autobiography, Life and Times of Frederick Douglass, first published in 1881, covering events during and after the Civil War. 

Frederick Douglass - A Biography was first published in 1899 as part of The Beacon biographies of eminent Americans. AUDIO: Read by Kirk Ziegler, running Time 2 hours, 32 min. Unabridged full version. E-book: ePUB, 22 300 words, average reading time 1 hour, 50 min. 

Charles Waddell Chesnutt (1858–1932) was an African American author, essayist, political activist and lawyer, best known for his novels and short stories exploring complex issues of racial and social identity in the post-Civil War South. Following the Civil Rights Movement during the 20th century, interest in the works of Chesnutt was revived. Several of his books were published in new editions, and he received formal recognition.
Listen to sample
---