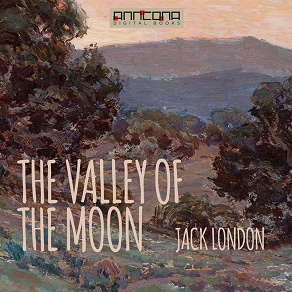 Isbn:
978-91-7759-584-7
Publisher:
Anncona Media
Category:
Novels
History
In english
Accessible since:
May 2019
Narrator:
Richard Kilmer
Length: 18 hours 59 minutes
---
The Valley of the Moon
The Valley of the Moon is a novel by American writer Jack London (as well as the mythic and romantic name for the wine-growing Sonoma Valley of California). 
The Valley of the Moon is a story of a working-class couple, Billy and Saxon Roberts, struggling laborers in Oakland at the Turn-of-the-Century, who left the city life behind and searched Central and Northern California for a suitable farmland to own. The book is notable for the scenes in which the proletarian hero enjoys fellowship with the artists' colony in Carmel, and he settles in the Valley of the Moon.
The valley where it is set, is located north of the San Francisco Bay Area in Sonoma County, California, where Jack London was a resident; he built his ranch in Glen Ellen. 
The novel has been described as "a road novel fifty years before Kerouac" and as reflecting London's loss of hope in socialism and growing interest in scientific farming. 
The Valley of the Moon was first published in 1913. AUDIO: Reading by Richard Kilmer, running time: 18 hours, 59 min. E-book: ePUB, 167,700 words, reading time approximately 14 hours. Unabridged full version. 
Jack London (1876-1916) was an American author, journalist, and social activist. He was a pioneer in the then-burgeoning world of commercial magazine fiction and was one of the first fiction writers to obtain worldwide celebrity and a large fortune from his fiction alone. London's most famous novels are The Call of the Wild, White Fang, The Sea-Wolf, The Iron Heel, and Martin Eden.
Listen to sample
---