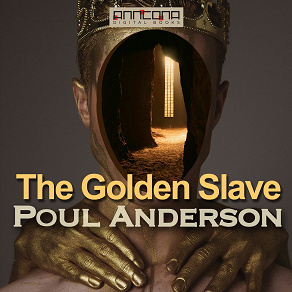 The Golden Slave
The Golden Slave is a fantasy novel by Poul Anderson.

100 B.C. – The Cimbrian hordes galloped across the dawn of history and clashed in screaming battle against the mighty Roman legions.

Led by their chief, Boierik, and his son, Eodan, the hungry and homeless pagan tribes hurled back the Romans time after time in their desperate search for land. But for all the burning towns, the new-caught women weeping, the wine drunk, the gold lifted, the Cimbri did not find a home.

And now it was over. At Vercellae the Roman armies shattered them completely. Only a few survived—and for them death would have been more merciful. Eodan, the proud young chieftain, had been caught and sold into slavery, his infant son murdered and his beautiful wife, Hwicca, taken as a concubine.

But whips and slave chains could not break the spirit of this fiery pagan giant who fought, seduced and connived his way to a perilous freedom to rescue the woman he loved.

The Golden Slave was first published in 1960. AUDIO: Reading by Mark Nelson, running time: 7 hours, 32 min. Unabridged full version. E-book: ePUB, 69,900 words, reading time approximately 5 hours, 50 min. 

Poul William Anderson (1926-2001) was an American science fiction author who began his career during one of the Golden Ages of the genre and continued to write and remain popular into the 21st century. Anderson also authored several works of fantasy, historical novels, and a prodigious number of short stories. He received numerous awards for his writing, including seven Hugo Awards and three Nebula Awards. 
Listen to sample
---