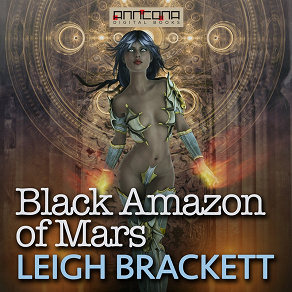 Isbn:
978-91-7759-588-5
Publisher:
Anncona Media
Category:
Novels
Fantasy & Sci-Fi
In english
Accessible since:
June 2019
Narrator:
Gregg Margarite
Length: 2 hours 34 minutes
---
Black Amazon of Mars
Black Amazon of Mars is a science fiction novel by Leigh Brackett. This is the third story to feature Brackett's hero Eric John Stark.

This gore drenched story finds Eric John Stark, the barely civilized warrior raised on Mercury struggling to bring a dying Martian friend back to his home city in the North of Mars before he passes away. Unfortunately, his friend does die on the way and lays a most unwanted last request on Stark before the end; to bring a precious stolen talisman back to the city. The journey there introduces the intimidating Black Amazon of Mars.

Stark was born on Mercury. His parents were employees of the mineral extraction company Mercury Metals and Mining. After his parents died in a cave-in caused by a quake, Stark was adopted by a tribe of Mercurian aborigines who are described as hairy and possessing snouts. They gave him the name N'Chaka, meaning "the man without a tribe". He believed himself to be one of them, rather than a human, and endured their rigorous way of life in the Mercurian Twilight Belt, surviving by hunting rock-lizards.

Before Stark was fully grown, another group of human miners exterminated his tribe, captured Stark and imprisoned him in a cage. They would ultimately have killed him if he had not been rescued by the police official Simon Ashton, who raised Stark to adulthood.

The stories of the adult Stark are fast-paced adventures, but Brackett manages to insert more pathos than most authors. Because of his background, Stark is keenly aware of the injustices visited on the planetary "primitives" by the colonialist Earth, and tends to side with them against official bodies.

Black Amazon of Mars is the third story to feature Brackett's hero Eric John Stark, and was later expanded into the novel People of the Talisman. It was first published in Planet Stories magazine in 1951. AUDIO: Reading by Gregg Margarite, running time: 2 hours, 34 min. Unabridged full version. E-book: ePUB, 24.000 words, reading time approximately 2 hours. 
Leigh Douglass Brackett (1915-1978) was an American author, particularly of science fiction, and has been referred to as the Queen of Space Opera. She was also a screenwriter, known for her work on such films as The Big Sleep (1946), Rio Bravo (1959) and The Long Goodbye (1973). She was the first woman shortlisted for the Hugo Award.
Listen to sample
---