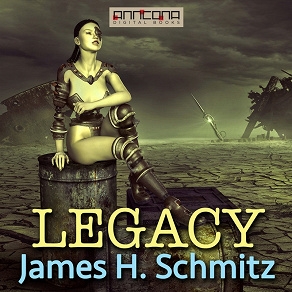 Isbn:
978-91-7759-611-0
Publisher:
Anncona Media
Category:
Novels
Fantasy & Sci-Fi
In english
Accessible since:
June 2019
Narrator:
P. Eac
Length: 7 hours 46 minutes
---
Legacy
Legacy (aka A Tale of Two Clocks) is a science fiction novel by James H. Schmitz.

Set well into the future where the human race has spread throughout the galaxy, this novel follows Trigger Argee as she tries to unravel the disappearance of Tate and the various plasmoids that have been found in the past. In doing so she jumps from one dilemma to another and exposes conspiracy, corruption and deceit wherever she turns.

Ancient living machines that after millennia of stillness suddenly begin to move under their own power, for reasons that remain a mystery to men. Holati Tate discovered them—then disappeared.

Trigger Argee was his closest associate—she means to find him. She's brilliant, beautiful, and skilled in every known martial art. She's worth plenty—dead or alive—to more than one faction in this obscure battle.

And she's beginning to have a chilling notion that the long-vanished Masters of the Old Galaxy were wise when they exiled the plasmoids to the most distant and isolated world they knew....

Trigger Argee has been sent by her boss to the University Planet to oversee a plasmoid project. So why aren't Professor Mantelish or Trigger's boss anywhere to be found -- and why is Trigger being kept in the dark? And why is Pilch of the Psychology Service so keen to dig through Trigger's mind?

Legacy was originally published in 1962 as "A Tale of Two Clocks". AUDIO: Reading by P. Eac, running time: 7 hours, 46 min. Unabridged full version. E-book: ePUB, 79,300 words, reading time approximately 6 hours, 35 min. 

James Henry Schmitz (1911–1981) was an American science fiction writer. Schmitz is best known as a writer of "space opera", and for his strong female characters who did not conform to the "damsel in distress" stereotype typical of science fiction of the time.
Listen to sample
---