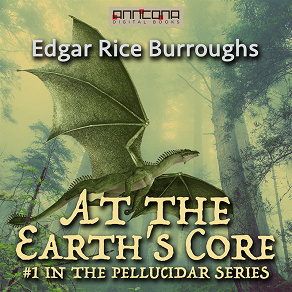 Isbn:
978-91-7759-637-0
Publisher:
Anncona Media
Category:
Novels
Fantasy & Sci-Fi
In english
Accessible since:
September 2019
Narrator:
Ralph Snelson
Length: 4 hours 55 minutes
---
At the Earth's Core
At the Earth's Core is a 1914 fantasy novel by Edgar Rice Burroughs, the first in his series about the fictional "hollow earth" land of Pellucidar.

The author relates how, traveling in the Sahara desert, he has encountered a remarkable vehicle and its pilot, David Innes, a man with a remarkable story to tell.

David is a mining heir who finances the experimental "iron mole," an excavating vehicle designed by his elderly inventor friend Abner Perry. In a test run, they discover the vehicle cannot be turned, and it burrows 500 miles into the Earth's crust, emerging into the unknown interior world of Pellucidar…

The novel was filmed as At the Earth's Core (1976), directed by Kevin Connor and starring Doug McClure as David Innes and Peter Cushing as Abner Perry. The 2008 movie Journey to Middle Earth also shares several similarities with the events and locations of the novel, although the film was intended as a loose adaptation of Journey to the Center of the Earth by Jules Verne.

At the Earth's Core first appeared as a four-part serial in All-Story Weekly in 1914. It was first published in book form in hardcover 1922. AUDIO: Reading by Ralph Snelson, running time: 4 hours, 55 min. Unabridged full version. E-book: ePUB, 50,600 words, reading time approximately 4 hours, 15 min.

Edgar Rice Burroughs (1875 - 1950) was an American author, best known for his creation of the jungle hero Tarzan and the heroic Mars adventurer John Carter, although he produced works in many genres.
Listen to sample
---