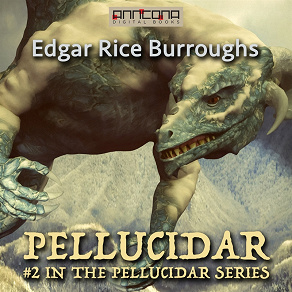 Isbn:
978-91-7759-639-4
Publisher:
Anncona Media
Category:
Novels
Fantasy & Sci-Fi
In english
Accessible since:
September 2019
Narrator:
Ralph Snelson
Length: 5 hours 55 minutes
---
Pellucidar
Pellucidar is a 1915 fantasy novel by Edgar Rice Burroughs, the second in his series about the fictional "hollow earth" land of Pellucidar.

David Innes and his captive, a member of the reptilian Mahar master race of the interior world of Pellucidar, return from the surface world in the Iron Mole invented by his friend and companion in adventure Abner Perry.

Emerging in Pellucidar at an unknown location, David frees his captive. He names the place Greenwich and uses the technology he has brought to begin the systematic exploration and mapping of the unknown land while searching for his lost companions…

Pellucidar first appeared as a four-part serial in All-Story Weeklyfrom May 8–29, 1915. It was first published in book form in hardcover in 1923. AUDIO: Reading by Ralph Snelson, running time: 5 hours, 55 min. Unabridged full version. E-book: ePUB, 57 500 words, reading time approximately 4 hours, 45 min.

Edgar Rice Burroughs (1875-1950) was an American author, best known for his creation of the jungle hero Tarzan and the heroic Mars adventurer John Carter, although he produced works in many genres.
Listen to sample
---