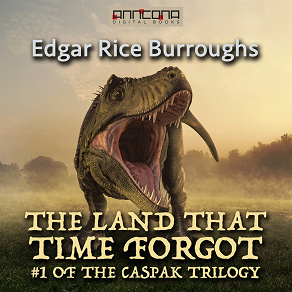 Isbn:
978-91-7759-641-7
Publisher:
Anncona Media
Category:
Novels
Fantasy & Sci-Fi
In english
Accessible since:
September 2019
Narrator:
Ralph Snelson
Length: 3 hours 47 minutes
---
The Land That Time Forgot
The Land That Time Forgot is a fantasy novel by American writer Edgar Rice Burroughs. The novel is the first of his Caspak trilogy.

Starting out as a harrowing wartime sea adventure, Burroughs's story ultimately develops into a lost world story reminiscent of such novels as Sir Arthur Conan Doyle's The Lost World (1912) and Jules Verne's The Mysterious Island (1874) and Journey to the Center of the Earth (1864).

Burroughs adds his own twist by postulating a unique biological system for his lost world, in which the slow progress of evolution in the world outside is recapitulated as a matter of individual metamorphosis.

This system is only hinted at in The Land That Time Forgot; presented as a mystery whose explication is gradually worked out over the course of the next two novels, it forms a thematic element serving to unite three otherwise rather loosely linked stories.

The Caspak trilogy was first published in Blue Book Magazine as a three-part serial in the issues for September, October and November 1918, with this short novel being the first installment. The complete trilogy was later combined for publication in book form under the title The Land That Time Forgot in 1924. AUDIO: Reading by Ralph Snelson,  running time: 3 hours, 46 min. Unabridged full version. E-book: ePUB, 37 300 words, reading time approximately 3 hours, 5 min.

Edgar Rice Burroughs (1875-1950) was an American author, best known for his creation of the jungle hero Tarzan and the heroic Mars adventurer John Carter, although he produced works in many genres.
Listen to sample
---