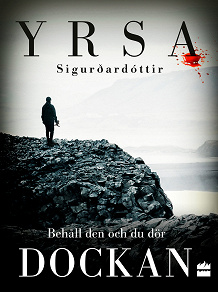 Isbn:
978-91-8072-141-7
Publisher:
HarperCollins Nordic
Category:
Novels
Crime & Mystery
Accessible since:
June 2023
---
DOCKAN
Det skulle bli en lugn fiskeresa med familjen, en chans att hinna umgås. Men det blev i stället en dag som för alltid förändrade deras liv.

Fiskelyckan uteblir och det enda mor och dotter får upp är en trasig docka. Efter många år i havet är dockan en skrämmande syn och moderns första instinkt är att kasta tillbaka den, men dottern vädjar om att få behålla dockan och får sin vilja igenom. Det är ett medgivande som visar sig vara ödesdigert. Samma kväll lägger mamman upp en bild på dockan på sociala medier. Morgonen därpå är hon död och dockan försvunnen. Flera år senare hittas ett skelett på havsbottnen som är svåridentifierat och kriminalinspektör Huldar tvingas be psykologen Freyja om hjälp. Samtidigt som mysteriet med den anonyma kroppen fördjupas dras Huldar in i utredningen av ett mord på en hemlös narkoman, och Freyja utreder ett misstänkt fall av barnmisshandel på ett fosterhem. Det blir snabbt tydligt att samtliga fall är kopplade till ett och samma vittne: den unga flickan som ville behålla dockan.

Dockan är den femte fristående delen i Yrsa Sigurdardóttirs hyllade serie om polisen Huldar och barnpsykologen Freyja.

****

YRSA SIGURDARDÓTTIR är född 1963 på Island. Hon debuterade 2005 och hennes böcker har sålts i över två miljoner exemplar och översatts till fler än 30 språk. För Arvet, första boken om Huldar och Freyja, tilldelades Sigurdardóttir The Blood Drop (Islands största deckarpris), Palle Rosenkrantz-priset i Danmark och nominerades till Glasnyckeln. Även efterföljande delar, Straffet, Upprättelsen och Avgrunden har nominerats till en rad utmärkelser.
---